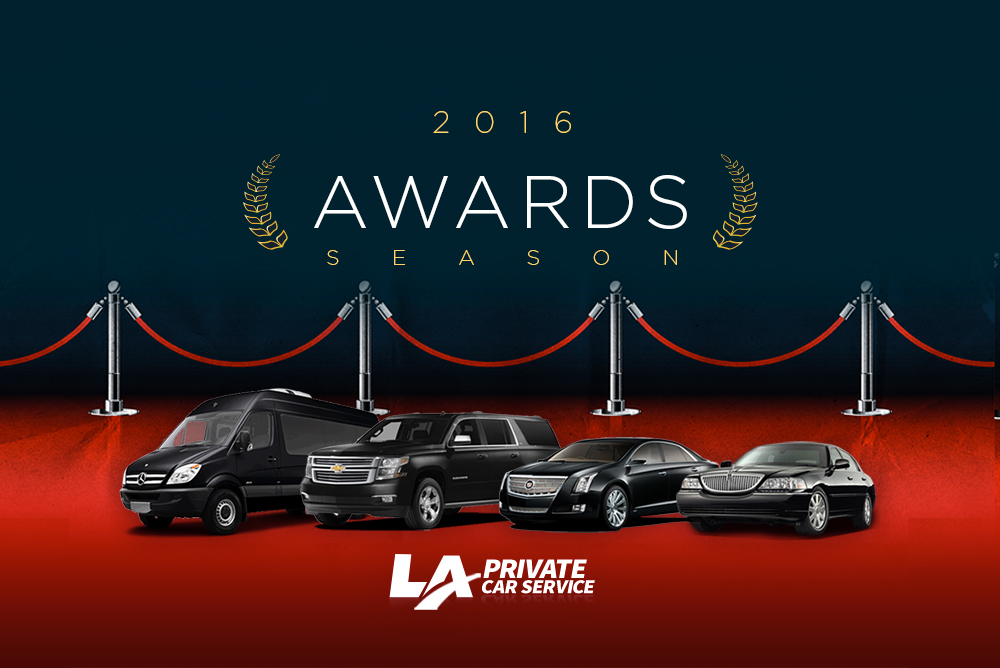 December puts us in the center of the winter holiday and in Los Angeles it also marks the unmistakable presence of the Award Season for the talented individuals working in front and behind the camera, in Hollywood.
Actors, actresses, screenwriters, directors, composers, custom designers, set decorators, cinematographers and many more are either waiting nervously to get their names announced as a nominee or at any given day in December, walking on and off a stage to present awards or better, take home one.
Chauffeured vehicles are seen all over this amazing city during its most glamorous time with gorgeous celebrities stepping out in expensive gowns and sharp tuxedos to talk to the press, greet fans, and most importantly, take a bow and accept an award in front of an audience of admirers and fellow nominees.
L.A. Private Car Service chauffeurs are very busy in December driving Tinseltown's movers and shakers from one industry event to another. There are nominations to be made, luncheons to attend and celebrations taking place, and all of them lead to the two very big events later in the season: The Golden Globe Awards, and The Academy Awards (the Oscars).
Hurry and contact L.A. Private Car Service to reserve an executive chauffeured vehicle now. See our fleet of cars here.
There is nothing more relaxing than the service of a professional car service from a company that has been transporting busy Angelenoes, with a courteous and knowledgeable team of experts, road-tested and dependable.
There are two award ceremonies that take place here in Los Angeles in the month of December: The Looking Ahead Awards will be held on December 6, at the Taglyan Complex in Hollywood. Presented by The Actors funs, a non-profit organization for people working in front and behind the camera, guests will celebrate the future of Hollywood and honor the hard working parents of young actors who sacrificed many things in order to nurture these talented role models to the active, influential celebrities they are today.
On December 11 The Critics Choice Awards will hand out awards to the best films, acting, directing, screenwriting and more, all voted by the members of the Broadcast Film Critics Association (BFCA). Previously held at the Hollywood Palladium, the event changed its location in October 2014, and since then the Critics' Choice Movie Awards was held at the Barker Hanger, in Santa Monica. The live telecast will air on A&E network.
Here is a detailed list of big Award Season events happening in Los Angeles.  .
Dec 1: Critics Choice Film Nominations announced
Dec 5: WGA TV, New Media, Radio, News, Promo Writing, Graphic Animation nominations announced
Dec 6: The Looking Ahead Awards by The Actors Fund
Dec 9: Golden Globes deadline for ballots
Dec 11: SAG nominations voting closes at 5 PM PT
Dec 11: Critics Choice Awards
Dec 12: Golden Globes nominations announced
Dec 12: DGA online voting for TV nominees opens
Dec 14: SAG nominations announced
Dec 15: PGA nominations poll open for motion pictures
Dec 19: SAG final voting opens
Dec 19: Golden Globes final ballots mailed
As always, L.A. Private Car Service is ready to deliver you and your guest safely and punctually. If you are a nominee, we congratulate you and will be happy to discuss your transportation needs.
CLICK HERE to reserve a chauffeured vehicle to events and other business or personal functions.