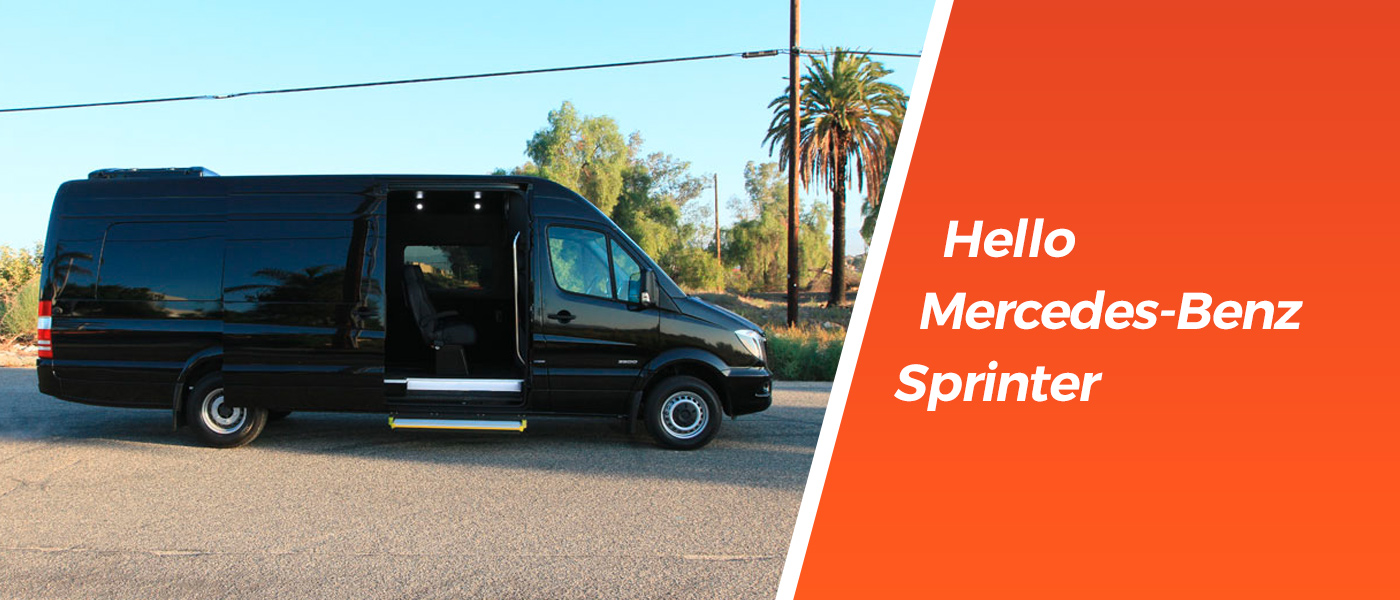 This month we welcome a new addition to our fleet of gorgeous automobiles.  The Sprinter is a spacious 14-passenger van by Mercedes-Benz with over 161 horsepower, comfort, and style.
This award winning, luxury minibus, was meant to impress clients, and creating memories with friends as all of you hit the road for various functions such as a company outing or other fun occasions like Bachelor and bachelorette parties, sporting events, class and family reunions and more.
This vehicle can also be used for funerals and shuttle service.  
L.A. Private Car Service is ready to roll the Sprinter out, in the greater Los Angeles area, or for Las Vegas runs, weekend wine country trips to Napa, Santa Barbara, a getaway in Palm Springs, and other applicable destinations.
It comes equipped, with classic leather seats, and built-in foldable trays, to accommodate your portable devices, office materials, or maybe that glass of wine or champagne.
Additional amenities include a 42" HD TV, fully supported by surround sound system, custom blinds, and large windows, ideal for sight-seeing tours, road shows, and parties.
The Mercedes-Benz brand has always been associated with class, comfort and reliability. Their vans are no different. Being first in its class for innovation and safety features the Sprinter too follows the high standards and the ongoing effort to understand customers' desires, and develop vehicles to address those needs while setting the standard in the automotive industry.
A Little History
The first generation Sprinter was launched in Europe in 1995 to replace the famous but outdated Mercedes Benz TN van dating from 1977. It was voted International Van of the Year for 1995.
The first generation (with VA Chassis) of North American Sprinter was launched in 2001 in the U.S. and was originally known as the Freightliner. The vehicle was sold in many parts of North America as Mercedes-Benz until 2003 when it was re-branded by Dodge.
From 2001 until 2006, cargo van versions of the Sprinter were manufactured in Düsseldorf, Germany, partially disassembled and shipped to a facility in Gaffney, South Carolina where they were reassembled for the U.S. market.
The Sprinter soon cornered the market as a van conversion and a recreational vehicle. Conversions to RV's, limousines, family and luxury vans, office vans, wheelchair accessible vans and golf vans have become a popular method of reworking this ride.
In America, the car is made from complete knock-down (CKD) kits by the U.S. based company Freightliner which is primarily owned by Daimler AG (Daimler-Benz). That's why these vehicles are also known as Freightliner Sprinter.
On TV
Not known as a family vehicle, a custom-modified version of the Sprinter was used by the ten-member Gosselin family, on the highly viewed TLC reality series Jon & Kate Plus 8.
TV viewers may also remember the Mercedes Sprinter with Mike and Frank behind the wheel, on The History Channel reality series American Pickers for 6 consecutive Seasons.
Since 2012, the Mercedes-Benz Sprinter 2500 has garnered top honors as the Vincentric Best Fleet Value in America award.
Now, a part of our family, at L.A. Private Car Service, we recommend this luxury vehicle as a comfortable, enjoyable pick for groups. Whether you climb aboard this beautiful coach for a business trip or venturing out on a festive night with co-workers and friends; you will arrive in comfort and under the expert navigation of our professional chauffeurs.
CLICK HERE to reserve.