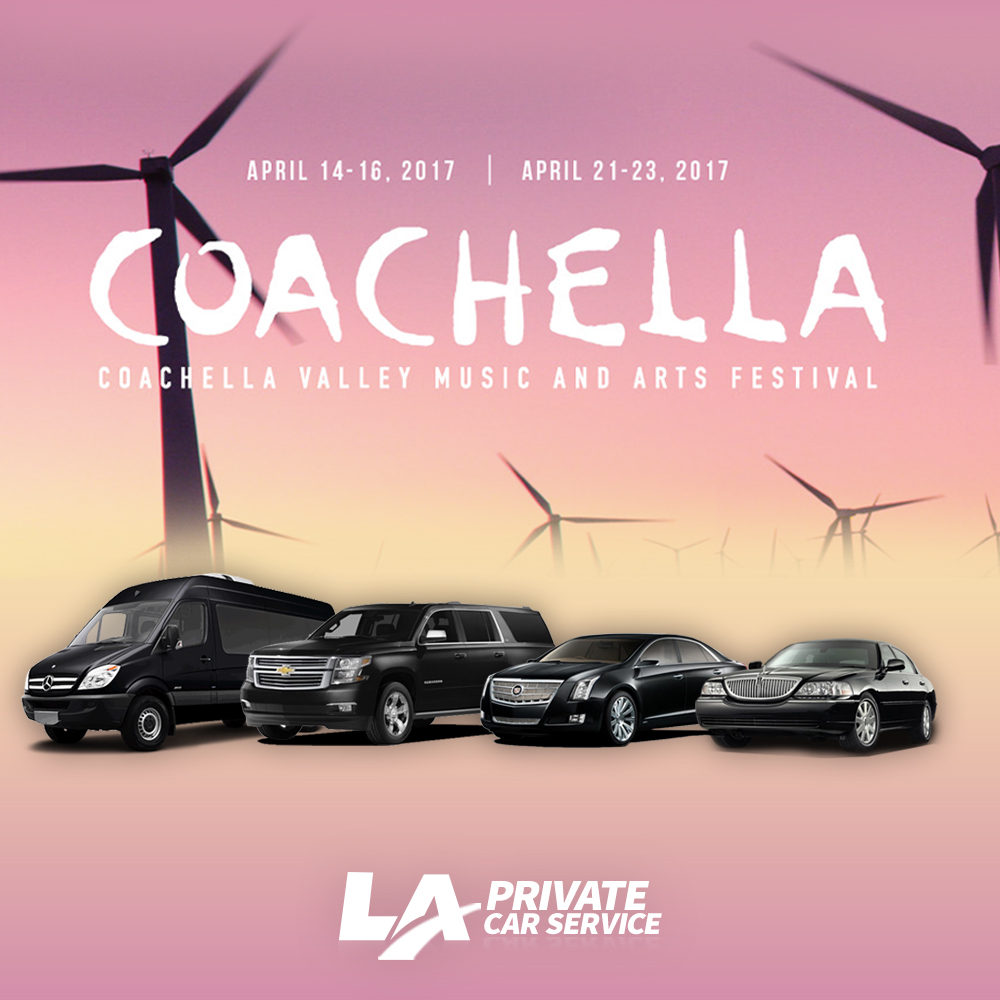 The Coachella festival, one of the biggest, most celebrated music events is approaching and music lovers, everywhere, are gearing up to attend this amazing happening. And when it comes to getting there, driving is one of the main methods of getting there. Here at L.A. Private Car Service, we have answered that call year after year, and we are ready to get you there, in comfort, and in style.
The Coachella Valley Music and Arts Festival (or simply called Coachella) is an annual music and arts festival held at the Empire Polo Club in Indio, California, in the Inland Empire's Coachella Valley, in the Colorado Desert.
The event, originally co-founded by Paul Tollett and Rick Van Santen, in 1999, assembles artists performing many genres of music. From rock to indie, hip hop, and electronic dance music, they are all featured in addition to art installations and sculptures found all over the festival grounds. Multiple stages welcome live musical bands and solo acts at simultaneously.
The main stages are the: Coachella Stage, Gobi Tent, Mojave Tent, Outdoor Theatre, and Sahara Tent.
A little history on how it came to be. In 1993, when Pearl Jam decided to perform at the Empire Polo Club as their way of boycotting venues controlled by Ticketmaster, the location demonstrated its potential for large public events. Coachella was born! It was held over the course of two days, in October 1999. After a two year silence, Coachella returned stronger and with bigger list of talent, year after year, becoming the festival it is now, a pair of three-day weekends in April, weekend one, and weekend two.
Did you know that you can reserve a chauffeured vehicle to this amazing festival?
Oh yes, L.A. Private Car has been whisking ticket holders and a few friends to and from this festival. Find out more.
The 2016 festival sold 198,000 tickets and grossed $94 million.
Translation: this is quite the destination for music lovers, adventurers and lovers of arts. So, call and reserve your ride a.s.a.p.
This year's lineup includes: Radiohead, Lady Gaga, Kendrick Lamar Travis Scott, DJ Shadow, Glass Animals, Little Dragon, Bon Iver, Future, DJ Snake, Lorde, Justice, New Order, Two Door Cinema Club, Hans Zimmer, DJ Khaled, Lil Uzi Vert, Glantis, Jai Wolf, and many more.
If you are doing a group outing for Coachella 2017, how about doing it in our roomy, beautiful Mercedes Benz Sprinter?
With HDTV, leather seats, small trays for your drinks, keys, ipods, and other gadgets, this is the way to get there while enjoying the ride and interacting with your friends and companions.
At L.A. Private Car Service, we are happy to play a role in bringing Coachella festival to you (or) you to it, and we hope to see you in one of our clean, stylish vehicles, navigated by a professional, road savvy chauffer while you sit back, take in the scenery or converse with your companion.
Click here to take a look at our vehicles.
Click here to reserve your chauffeured car.