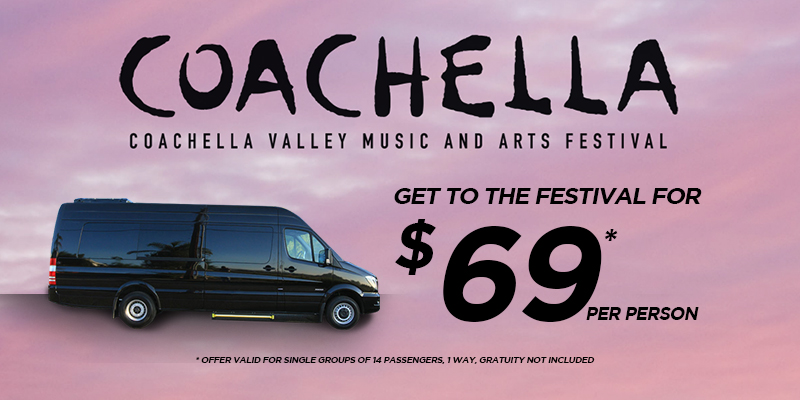 Help! Coachella Fever has arrived to L.A. Private Car Service headquarters, here in Los Angeles. Few of our employees have announced they are attending, and have been comparing dates and line ups to see who goes to which stage or party.
Yes, when it comes to celebrating everything showbiz we have it covered here in Southern California, especially here in Los Angeles. Aside from the too many award shows, celebrity roasts and televised pat-on-the-back ceremonies, we have more than a few cool and legitimate celebrations we are quite proud of, and in true Angeleno fashion, we'll get into our cars, hop on a few freeways, and travel to them. This month all roads artsy and musical lead to Coachella. But not everyone drives. Not when there is L.A. Private Car Service to get them there. Have you booked your car?
Why drive to Coachella when L.A. Private Car Service can get you there? 
The Coachella Valley Music and Arts Festival is an annual music and arts event held at the Empire Polo Club in Indio, in California. Located in the Inland Empire's Coachella Valley in the Colorado Desert, the massive music fair has become a point of pilgrimage for music lovers from around the world. From bikini-babes to pool boys, tattooed hipsters, Insta-celebs, and real superstars, everyone gets there to see an impressive list of bands, solo vocalists, and world class DJ's bring the crowd the best of what they have.
This year's event will take place on two weekends of April 15-17 and April 22-24, 2016.
Taking the stage will be: Calvin Hariss, LCD Soundsystem, A$AP Rocky, Ellie Goulding, Ice Cube, Sufjan Stevens, Zedd, Sia, and Guns N' Roses, just to name a few.
Matching the lineup of Coachella, we too have a new star addition taking center stage at L.A. Private Car Service. We welcome the Mercedes Benz Sprinter (pictured) to our fleet of automobiles. Wouldn't you love to chill in this beauty with a group of friends and fellow music enthusiasts, as one of our expert chauffeurs delivers you to the star studded event?  
CLICK HERE to see our cars and specials.
The food too has become a highlight of the festival and one can see posts on Instagram and other social media next to posts about musical acts, celebrities and those art fixtures everyone wants to pose in front. Back by popular demand are booth-based cuisines such as Afters Ice Cream, Beer Belly, Eureka! The Church Key and more.
Other 2016 food and drink line up include: Free Range, Beer, Belly, Blue Bottle Coffee, Cassell's Hamburgers, Donut Farm, Menotti's Coffee Stop, Hinterland, Superba Food and Bread, The Church Key, Top Round Roast Beef, Sotto, BCN, Phorage, Burgerlords, McConnell's Fine Ice Creams, Afters Ice Cream, Smitten Ice Cream, Commissary, Sage Vegan Bistro, Clover Juice, Backyard Bowls, Sweetfin Poke, Rosaline, Mexicali Taco & Co., Three Jerks Jerky, Guerrilla Tacos, Fritzi Dog, Eureka!, Rossoblu, GD Bro Burger, Sumo Dog, Badmaash, Ramen Hood, Starry Kitchen x Button Mash, Hanjip, Seven Grand, Pok Pok LA, Mallow Mallow and Unit 120. So, this is not just a place to discover and celebrate music but a foodie's paradise as well.
Make sure you reserve your rides with us and arrive safely, relaxed and ready to soak in the sun and the music. Be safe and have lots of fun.
CLICK HERE for this year's Coachella line up.