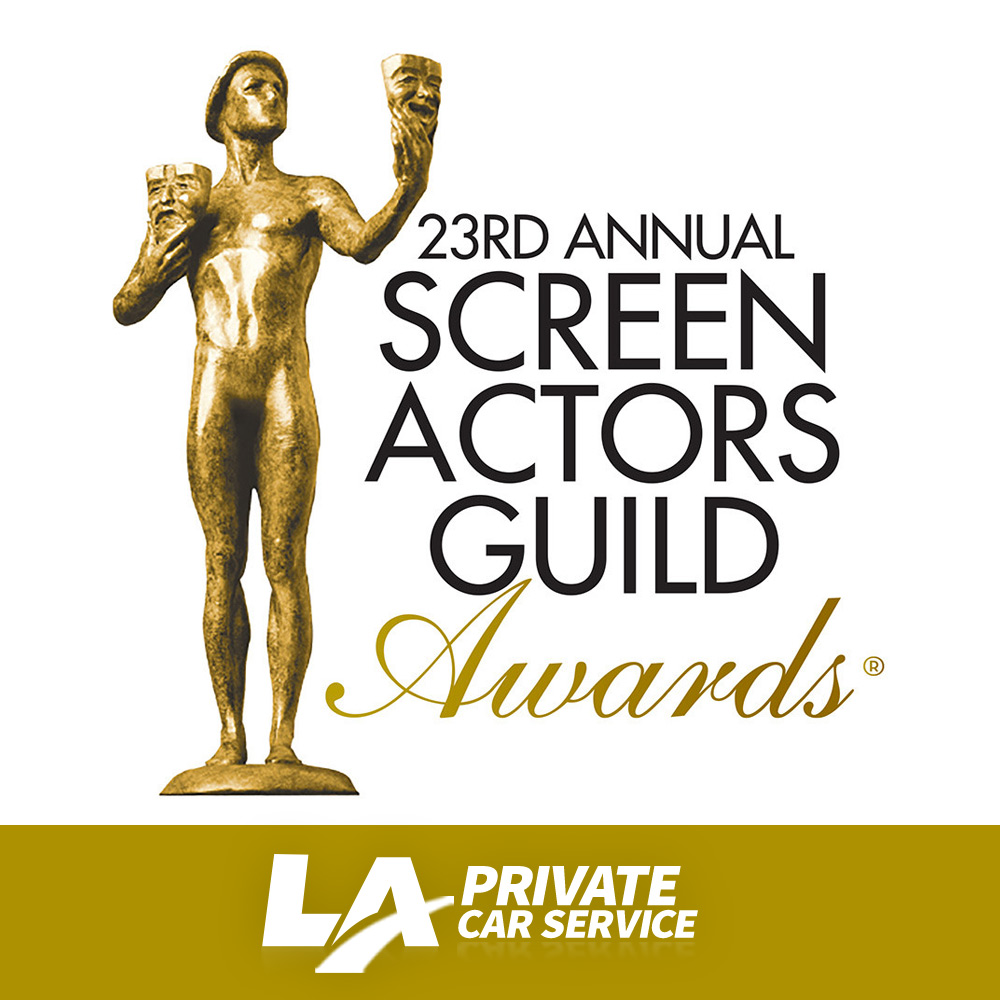 January pushes ahead, during this exciting Awards Season, in Los Angeles. And now, all the talented people working front of the camera, in film and Television, set their eyes on the SAG Awards. By now, the Golden Globe Awards have been handed out, and the nods and trophies from that event might have given direction to what films critics and voting members in other ceremonies should pay attention to. Some believe that major award ceremonies, held earlier in the season, indirectly influence the outcome of other upcoming awards, and hopefully help direct the attention to great performances, in films and TV productions worthy of recognition.
The Screen Actors Guild Award (also known as the SAG Award) is presented by the Screen Actors Guild‐American Federation of Television and Radio Artists (SAG-AFTRA) honoring outstanding performances in film and prime time television. The trophy is a statuette, known as "The Actor," is a male figure (nude, apparently, symbolizing the bare naked nature of the performance by actors and actresses as they perform without restrictions, from the heart and the soul). The figure is holding, both, a mask of comedy and a mask of tragedy, the two original genres of films, and plays. It is 16 inches (41 cm) tall, weighs over 12 pounds (5.4 kg), is cast in solid bronze.
When it comes to impressive performances, our hard working team at L.A. Private Car Service does their very best in accommodating celebrities, nominees and the distinguished members of the industry. Our skilled chauffeurs zip to and from all red carpet events and industry related functions safely and expertly. The SAG Awards have been one of the massive celebrations to which we have delivered VIP passengers, and continue to do so each year.
Check out our fleet of executive cars.
The inaugural SAG Awards aired live on February 25, 1995 from Stage 12, at the Universal Studios. The second SAG awards aired live from the Santa Monica Civic Auditorium, but after that, the ceremony has been held at the Shrine Exposition Hall, in Downtown, Los Angeles.
Like all glamorous industry events, the SAG Awards encourage actors and actresses to shine and express their sense of style and fashion. Therefore, TV viewers expect to see dazzling fashion and matching jewelry. The men have a sense of freedom. While being a classy, black-tie event, it is not strictly a tuxedo affair. Therefore actors can show up in more interesting choices.
Gearing up for the event, the chauffeurs and the team of L.A. Private Car Service have all the expertise for the job. Each year, we receive calls to help deliver guests and talented nominees to the SAG Awards and other important Hollywood events. Our knowledgeable, courteous staff is ready to book the order and take the hassle and stress of "getting there" off your plate.
Let our competent, professional chauffeurs drive you to Shrine Auditorium or other venues, safely and punctually while you relax and prepare for the festivities ahead.
You should enjoy thinking about your favorite nominated actors. Will it be Casey Affleck in "Manchester by the Sea," Ryan Gosling in "La La Land," Andrew Garfield in "Hacksaw Ridge?" And we name a few.
From the wonderful actresses, who should take home The Actor trophy? How about Emma Stone in "La La Land," or Natalie Portman in "Jackie," Amy Adams in "Arrival," Emily Blunt in "The Girl on a Train," or the queen bee who has been getting lots of media attention lately, Meryl Streep, in "Florence Foster Jenkins?"
These can be the predictions you make, sitting comfortably in the back seat of our stylish cars, while your chauffeur navigates the city.
So, please don't wait, go ahead and book your chauffeured vehicle online, and do it now. Leaving it to the "week of" can often leave you without a proper transportation to such glitzy events where what you arrive in is as important as who you are wearing.