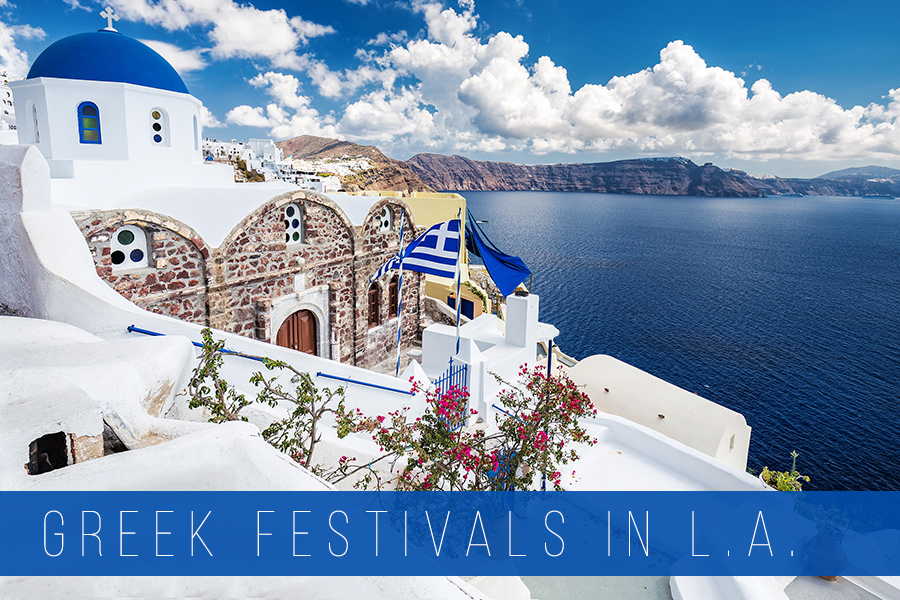 The endless summer continues as the Greek community in Los Angeles gets ready to celebrate its heritage with two festivals in our vibrant city.  At L.A. Private Car Service we service many music, food and art festivals and are excited about our Greek-American, Angelenos, celebrating their rich culture, amazing food, wine and that lively and heartfelt music. To help enjoy the festivities, our professional staff and qualified chauffeurs are ready to whisk you to these two magical happenings, and deliver you home safely so you can relax and enjoy these events and not worry about the stress of traffic, parking, walking long ways to the festival grounds and driving home, especially if you plan on drinking alcohol.
Long Beach Greek Festival by the Sea – September 1-3, 2018
This Labor Day weekend, add some Greek flavors to your holiday. Choose from a variety of authentic Greek food, watch the cooking demonstrations, and take part in some live dancing. Soak in the culture and learn the beautiful traditions and make great memories. Favorite dishes include the signature Greek rotisserie chicken, with lemon juice, olive oil, and Greek oregano, and the famous Gyros (thinly sliced lamb in a pita with a spicy Tzatziki yogurt sauce) which come with seasoned fries; feta cheese and Kalamata olives, and there is also roasted leg of lamb, made the Greek way.
Your sweet tooth will get its fix too, thanks to delicate pastries and deserts: Baklava, Koulourakia (traditional Greek cookies), Kourabeithes (butter cookies dusted in powdered sugar) and Galatobouriko (Greek custard wrapped in filo pastry, Diples (delicately rolled pastry dough, crisped & drenched in honey and sprinkled with cinnamon and walnuts), and more.
To drink, there will be Greek coffee/kafe, and quality imported wine and beer, directly from many parts of Greece.
Address for the Long Beach Greek Festival: 5761 E. Colorado Street, Long Beach, CA 90814
More Info Here: https://www.lbgreekfest.org/
Pasadena Greek Fest – Sept 21-23, 2018
The 57th Annual Pasadena Greek Fest hosted by the community of Saint Anthony Greek Orthodox Church in Pasadena, CA will takes place at the St Anthony Greek Orthodox Church grounds in Pasadena. Get ready to taste a variety of classic Greek dishes. From mouth-watering lamb chops, gyros, souvlaki wraps or plates, golden fried calamari and more. Try a glass of authentic Greek wine or other spirits or pick from non-alcoholic Frappes and smoothies.
There will be live music, performed by the Olympians along with dance presentations. This is a family event, and you are encouraged to bring the kids and let them loose and see them play in the fun zone for children.
On Saturday and Sunday (Sept 22 & 23) there is a church tour happening at 1:00 pm and 7:30 Pm, for those who are interested. Greek folk dancing starts at 5:00 pm on both days.
Admission: $4.00 per adults. Children under 12 years get in for free.
Festival address: 778 South Rosemead Boulevard, in Pasadena, CA
More Info Here: https://pasadenagreekfest.org/
Have you reserved your private car to these events? CLICK HERE to book a chauffeured vehicle online.
Make sure you check the official website of each event to get detailed information about parking. Drop off and pick up locations.
Contact us at L.A. Private Car Service and let us help you pick a suitable, clean, luxury sedan or SUV and help you get to these amazing festivals.