The British are coming! The British are coming! Well, musically, they are definitely coming. This summer Southern California and fans in Los Angeles will witness a British invasion of sorts as superstars of recent British music scene will perform live, in our city, as a stop on their big concert tours. Since The Beatles music from England continues to dominate the world and thrill music lovers everywhere. At L.A. Private Car Service we welcome these talented stars and hope to whisk many of you, the fans, to these historic concerts.
Niall Horan – August 5 at Irvine + August 7 and 8 at the Greek Theater
The 24-year-old, Irish born, Niall Horan has been topping the charts since the release of his solo album "Flicker." The first single "This Town," found its way onto the Top 10 and peaked at No. 9 at UK Singles Chart and at No. 20 of Billboard Hot 100. The second song from the album "Slow Hands" proved to be a wide international hit, entering the Top 20 in the U.S.
Horan admitted in an EW interview that he based the solo album on classic rock bands like Fleetwood Mac and The Eagles. No wonder the ex ONE DIRECTION member has found continued success with fans of various ages in America, and especially with the song "Slow Hands."
Flicker Sessions 2017 is Niall Horan's worldwide concert tour, with three dates taking place in Irvine and Los Angeles, California.
L.A. Private Car Service caters to many music fans and services both of these famous locations. Rest assured that arriving in comfort, in style, and without the worry of navigating the busy freeways will add to the joy of this special concert. Our skilled chauffeurs are ready to pick you up on time and drive you home after the show. Take a look at our fleet of cars.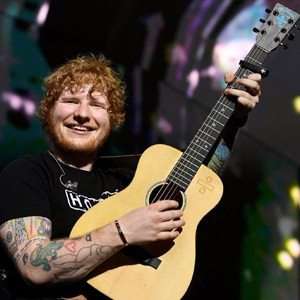 Ed Sheeran – August 18 at the Rose Bowl Stadium – Pasadena.
British pop superstar Ed Sheeran is a singer, songwriter, guitarist, record producer, actor and rapper who has taken the world by storm, releasing soulful, crowd pleasing songs that seem to come out of him effortlessly. Since 2004, with the release of his first album "Spinning Man," Ed Sheeran's place in the world of music has been solidified hit after hit, with songs such as "The A Team," "Thinking Out Loud," "Photograph," "Shape of You," and "Perfect," to name a few.  
At age 27, Sheeran is already the recipient of an MBE title. The Most Excellent Order of the British Empire (MBE) is a British order of chivalry, established on 4 June 1917 by King George V, and comprises five classes across both civil and military divisions, the most senior two of which make the recipient either a knight if male or dame if female. It rewards and recognizes contributions to the arts and sciences, work with charitable and welfare organizations, and public service outside the Civil service.
Fans in Los Angeles area can see Ed Sheeran take the stage for a historic concert at the Rose Bowl Stadium, in Pasadena, California for his latest tour titled "÷"
The ÷ Tour is the third world concert tour by the English singer and songwriter, and in support of his third studio album, ÷. The tour began earlier in March 2017, in Turin, Italy and will end on March 27, 2019 in Cape Town, South Africa.
Reserve your private car, chauffeured by our road-savvy drivers and leave the hassle of getting to the large venue and the parking troubles to us at L.A. Private Car Service.
Sam Smith – August 25 at Honda Center + August 28 & 29 at Staples Center
Just in time and in support of his upcoming, sophomore album "The Thrill of It All," British crooner, Sam Smith is another superstar from across the pond arriving to our city for three concerts in giant venues. "Too Good At Goodbyes," is the first single from the new Sam Smith album and it quickly became a smashing hit around the world, after its debut at number 1 on Billboard's Digital Song Sales chart. The song went on to exceed 100 million on Spotify worldwide. Supporting Smith on these dates will be American singer and songwriter, Beth Ditto.
Smith's breakthrough came when he was featured on the song "latch" by British Electronic-pop duo Disclosure, released on 8 October 2012 and peaked at No. 11 on the UK Singles Chart. In February 2013, Smith released his first album "The Lonely Hour" from which "Lay Me Down" was the first single. He was also featured on "La La La" by Naughty Boy, peaking the UK Singles Chart at No. 1. The rest, as they say, is history. The mega-successful singer, songwriter has added countless awards to his shelves of accomplishments in less than five years, including a Golden Globe trophy and the Academy Award for "Writing's on the Wall" which has been recognized as the best song for the James Bond film Specrtre.
Smith will also be the musical guest on Saturday Night Live (airing on NBC) come October 7, 2018.
Make sure you look up the rules and restrictions of the concert venue as you, the passenger, maybe responsible for obtaining the necessary parking passes and other official permits.
Hurry and reserve one of our stylish cars, chauffeured by our courteous, knowledgeable and punctual drivers, and have a great time rocking with these British music superstars.